Posted by Peter Arevalo on Mar 19th 2015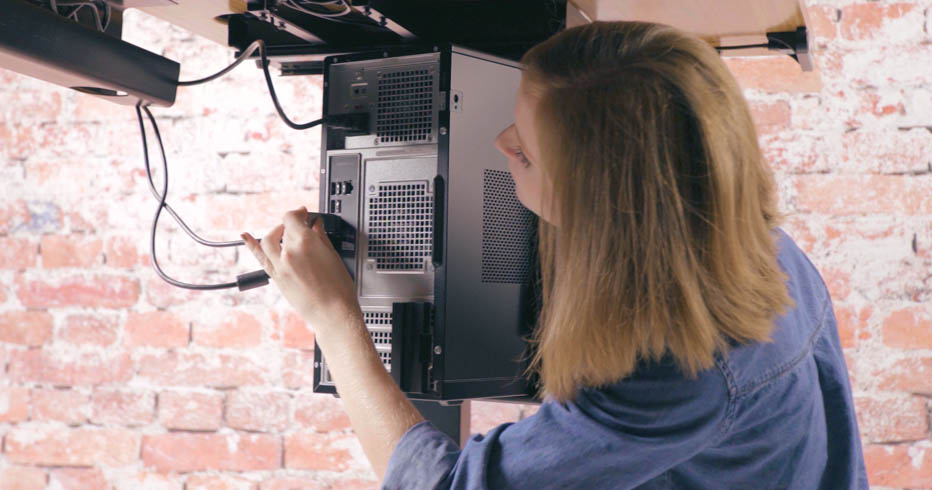 Adding a CPU holder is a great way to free up desktop space and get your computer tower off of the floor. Here at Human Solution, we offer the UPLIFT CPU Holder as an option with all versions of the UPLIFT Desk, and it fits quite easily on the bigger desktop sizes. Installation is normally as easy as moving one of the legs further inside the desk to allow the track for the CPU holder to be drilled in on the outside of that leg. However, desktops 48" and smaller do not have space to allow for this, as the legs cannot be brought inside the desktop any more than a few inches. Fear not, all hope is not lost. Check out how we configure this popular option on a smaller desktop.
On smaller desktops, you will not be able to install the CPU track in the traditional sense, from front to back. You will need to attach the track sideways to run parallel with the crossbars. Leave a few inches for a gap between the track and the crossbars to allow for swivel. This will allow you to swivel the CPU towards you, under the desk, if you need to access it. In order to do this, you may need to set your tower a little off-center in the CPU holder itself, so that it will not interfere with the wall behind your desk. If your tower is bigger, and you do not have extra space behind your desk, you can easily access it from the side of your desk, as shown in the picture above. If you also purchased the UPLIFT Wire Management Kit, you can install the tray on the back or opposite side of the CPU holder for easy cable bundling.
Most people don't need to interact with their CPU on a daily basis, so this configuration is a great way to get the most of your desk space. If you find yourself needing to reach USB ports on a consistent basis, I would recommend adding an UPLIFT USB Hub to sit on your desk for easy access.
If you have any questions about the installation process, please visit us via chat at www.thehumansolution.com or give us a call at 1-800-531-3746 to speak with one of our experts.