Posted by Tyler Reinhardt on Jan 17th 2018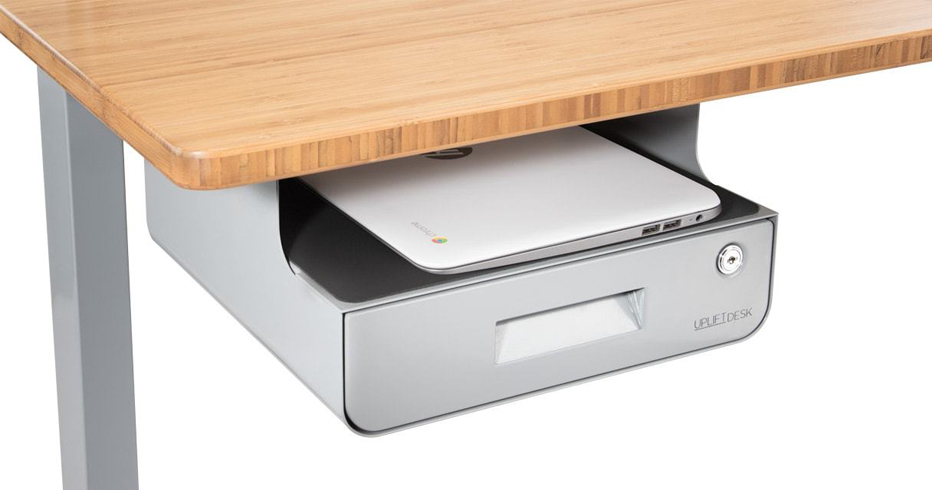 Storage? Who needs storage? The answer is everyone. Look over in the cubicle next to yours. Do you think it would be that disorganized if it had proper storage? Probably. But at least the option for a neat and tidy workspace would be there. And who doesn't love options? Speaking of which, there are so many options for storage now and UPLIFT Desk is upping its storage game with a host of products ranging from drawers to filing cabinets. There's sure to be a thing or two in the collection that'll catch your eye and help organize a messy work area.
For convenient desk-mounted options, the tried and true Half-Circle Desk drawer is an old go-to. It's available in the classic size or in a smaller version. Neither of the drawers is super large but they have plenty of room for some of the smaller office stationery like paper clips, pens, pencils, rubber bands, etc. They're pretty easy to install too. The drawer itself rotates around a circular piece with two screw holes in it. The hardware is included for these but really all you need are two wood screws that won't go all the way through your desktop. Once attached the drawers rotate a full 360 degrees which is how you both stow away your drawer and open it to reveal the compartments or compartment in the case of the small Half Circle Drawer. Since the drawers work based on the physics of leverage, don't be alarmed if you can't rotate the drawer in your hands fresh out of the box. Just attach it to your desktop and from that point on, rotating it shouldn't be an issue.
Another desk mounted option, if you need a little more security, is the Locking Under Desk Drawer with Shelf. This little beauty attaches to the underside of your desk via 6 wood screws. The top of the drawer section actually drops down about 3.75" below the underside of the desk. This gives a fair amount of clearance and is meant to be used as a shelf. The drawer section itself can hold small documents among other things and can be locked and unlocked with its handy-dandy key.
For larger files and other work-related items of size, you'll want to have a look at the 3-Drawer File Cabinet, Rolling and 2-Drawer File Cabinet with Seat. If you didn't gather from the super catchy names, one is a file cabinet with 3 drawers and the other is a file cabinet with 2 drawers. Each one has its own unique features though. The 3-Drawer File Cabinet has a third drawer that is large enough to hold legal documents. The 2-Drawer File Cabinet also features a padded covering on top so that it can double as a seat. Both also have rolling casters for easy mobility and convenience and drawers that lock for security. A soft-close function allows you to close the top drawer of each without having to worry about distracting your coworkers with slamming drawers (trust us, they'll thank you for this).
These are just a few of storage options we have available to help you organize an out-of-control workspace. We also have wire management options for your cords and cables like the Ultimate Wire Management Kit by UPLIFT Desk. All items can work with an existing desk or be used alongside an UPLIFT Height Adjustable Desk. In the case of the accessories that require screws to be mounted, you'll just want to make sure your desk is made of a material that is compatible with wood screws. If you have a top that you find questionable, or if you would like a quote on any of the aforementioned items, contact our reps at 800-531-3746 and they'll be happy to help you spruce up your office!