Posted by Tyler Reinhardt on Jul 28th 2017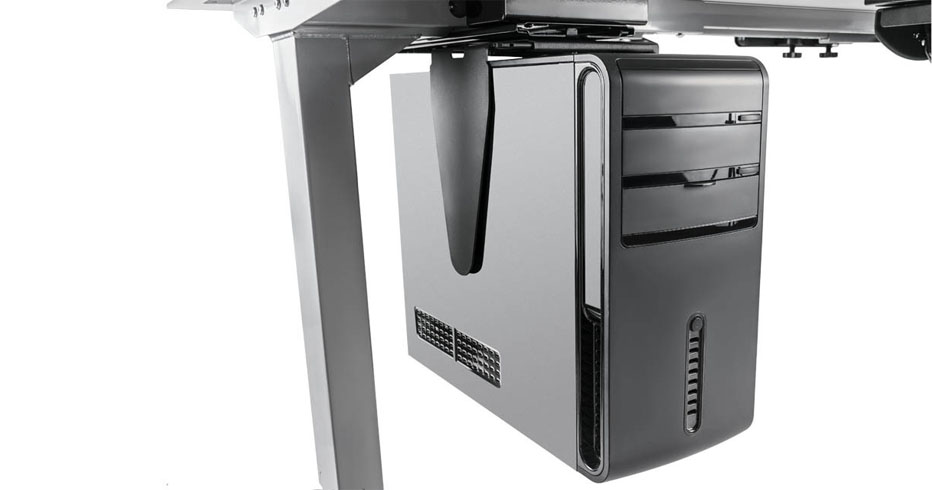 People have a thing for towers. We've been building them for years, mostly as an efficient way to get office space into cramped urban areas but also so architects can beef up their portfolios. Some notable towers include the Sears tower, the Eiffel tower, the Dark Tower, and of course the Two Towers from Lord of the Rings, because why have one when you can double your fun? We also make smaller towers like the one that holds all of the "brain stuff" that makes your computer work. The thing is, towers tend to take up a lot of real estate. It doesn't matter so much when you have a whole city block to work with but when it comes to space on your desktop, every square inch counts.
But what do you do with that cumbersome CPU tower? Do you put it on the floor? You could if you don't mind risking issues with heat, dust, and static. A better alternative is to get yourself a CPU holder. These nifty pieces of innovation cradle and hold your CPU tower under your desktop surface, freeing the actual desktop up for all kinds of activities. They're available in a variety of flavors but if you're on a bit of a budget and don't want to sacrifice quality, the E3 CPU Holder by UPLIFT Desk is going to be your best bet. The E3 fits a pretty impressive size range from 5.2"-8.5" W and 11"-20.4"H and comes in three color options. You can get it in either black, gray, or white.
If you 're pairing with an UPLIFT Height Adjustable Desk and want some versatility in where you mount your CPU Holder, the UPLIFT CPU Holder classic is going to be a good call. It mounts to the underside of your desk via wood screws and a 16" metal track, and swivels 360 degrees for easy access to your ports and switches. If you own an UPLIFT Desk and find yourself having difficulty with mounting your CPU Holder due to the crossbar rails, the UPLIFT track spacer is there to help. The track spacer basically acts like a bridge over the UPLIFT desk's crossbar rails, allowing you to mount the track without having to worry too much about placement. All UPLIFT CPU holders are designed specifically for standard sized CPU towers. In the case of the UPLIFT CPU Holder classic, if you have a CPU tower that falls within 3.75"-8.25"W by 12"-20.5"H and weighs less than 50 pounds, then you're golden! If your tower is a little smaller, you may want to consider the E3 CPU Holder instead.
However, things get a bit more difficult for larger towers and custom rigs. Assuming they aren't wider than 9" you could go with something like the Humanscale CPU Dolly. It doesn't mount to the desk top but it does get your CPU tower off the floor and even puts it on a set of casters for easy mobility. For anything bigger than that though you'll want to explore some alternative options. I would suggest talking to one of our awesome Sales Pros at 800-531-3746 and maybe you'll be able to come up with something that works for even your super sized rig!