Posted by Human Solution on May 8th 2014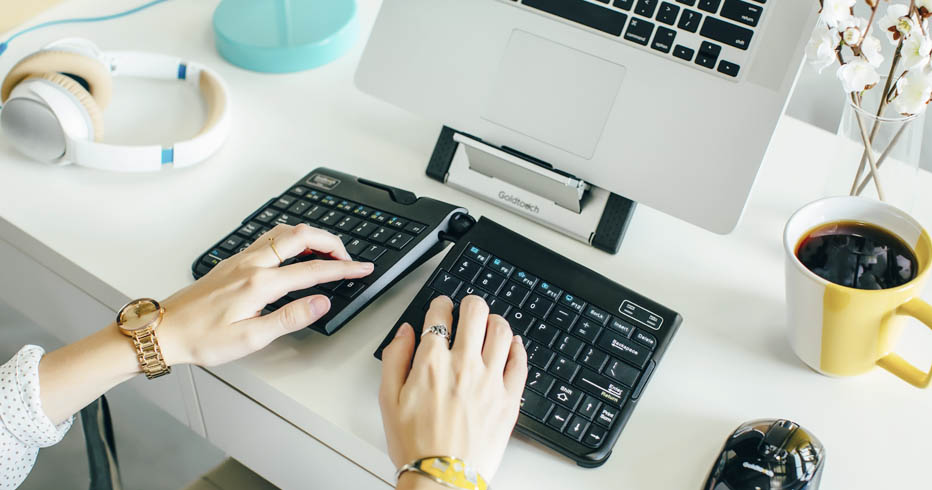 It might be hard to believe, but WWDC 2014 is right around the corner, bringing with it news of an updated Mac OS X and (hopefully) new information on Apple's 2014 hardware lineup. With rumors of a new, low-cost iMac already circulating, it's a great time to consider preparing your ergonomic workstation for the latest and greatest from the tech wizards in Cupertino. Unfortunately, it's likely that any new iMac will still come with Apple's signature low-profile keyboard, which looks great but leaves much to be desired with regards to typing comfort. While Apple has made great strides in making quality OS X-compatible accessories available to the public, it can still be hard to find Mac-compatible keyboards that are both functional and comfortable to use. Luckily, we've got a wide range of keyboards that are Mac-compatible. Here are the best ergonomic keyboards for Mac.
For those already using a Windows-based PC, our most popular ergonomic keyboard is available with both Windows and Mac-compatibility built in. The Goldtouch V2 GTU-0088 utilizes a dual key legend that allows for you to use the same keyboard on both Windows and OS X. Plug-and-play compatibility ensures that no specialized software or driver installation is necessary when switching between operating systems. The Goldtouch V2 keyboard family also helps to alleviate wrist pain by allowing for splaying and tenting of the two keyboard halves up to 30 degrees with a locking lever adjustment system. This helps to minimize strain on your wrists and forearms, thus lowering the risk of developing repetitive stress injuries. Soft-touch keys with membrane switches also help to reduce the amount of force necessary to type, offering a comfortable, effortless typing experience.
Need something with a bit more flexibility? While the Kinesis Freestyle2 doesn't offer the same cross-platform compatibility as the Goldtouch V2, it features a unique tethered keyboard design that offers unprecedented flexibility. Available in both 9" and 20" separation models, the Freestyle2 is designed to spread out the typing surface so that you can type with your arms in a more natural position. Optional tenting accessories also provide the ability to tent the keyboard or add palmrests. As a native Mac keyboard, the Freestyle2 offers easy access to all the traditional Mac hotkeys, as well as dedicated keys for common commands like cut, copy, and paste. The keys themselves are designed for extreme durability and are rated at 10,000,000 actuations each, all while maintaining a soft, tactile feel that allows for quick, stress-free typing.
Of course, sometimes the best keyboards are the ones we're more familiar with. For many Mac die-hards, the Apple Extended Keyboard represented the epitome of Mac keyboard technology, with many users still using the design despite being discontinued in the early 1990s. Thankfully, the Matias Tactile Pro keyboard brings back nearly everything great about the classic design in a modern package that doesn't require an ADB-to-USB converter to use with OS X. The Matias Tactile Pro doesn't feature a specialized ergonomic design like the Goldtouch V2 and Kinesis Freestyle2, instead focusing on creating a truly exquisite typing experience that's optimized for speed and finger comfort. Built with the same Alps Electric Co. mechanical switches used in the Apple Extended Keyboard, the Tactile Pro's keys have a consistent level of resistance for each keystroke, resulting in a satisfying *click* that lets you know when the keystroke is registered. This tactile bump allows skilled users to immediately know when they can release the key, preventing them from striking the bottom of the keywell and causing unnecessary stress on the fingers. The key tops themselves feature a laser-etched legend for clarity and durability, and are also curved slightly to better accommodate the natural shape of your fingers.
Will WWDC next month bring us news of a new iMac? We'll have to wait for the keynote to find out for sure, but it's never too early to start typing in comfort!
Learn more about Mac-compatible ergonomic keyboards at TheHumanSolution.com.