Treadmill Desks Go Hollywood
Treadmill Desks Go Hollywood
The newest health trend sweeping Hollywood isn't a fad diet or juice cleanse; instead, people in every corner of the entertainment industry are recognizing the advantages of working while walking with a treadmill desk. When The Hollywood Reporter is covering treadmill desks, as they did in this article from their January 17th issue, you know they've made the big time. According to the paper of record for the entertainment industry, Hollywood executives and superstars has finally caught on to both the health and productivity benefits of using a treadmill at work.
Power agents like Ari Emanuel, the inspiration for Entourage's Ari Gold, have found that the treadmill is the perfect spot to make phone calls and read scripts. Indeed, according to the article, around 20 agents were inspired to get treadmill desks of their own after seeing Emmanuel's own walking workstation. But it isn't just the suits who find their productivity is up from switching to a treadmill desk. Jenji Kohan, creator of my new favorite TV show Orange is the New Black and my old favorite Weeds, also finds that walking while working is the perfect way to spur creativity and deal with the day to day stresses of running a TV show. One of the most interesting parts of the article for me was seeing the wide range of work that could be accomplished with a treadmill desk. People on the business side, the creative side, and the production side all found that a treadmill desk is the perfect way to help lose calories and stay in shape while increasing your focus on the day's tasks.
The article also points to some of the same brands that we recommend. Al Roker, for example, likes to use the Steelcase Walkstation. That's a great option, but for those of us who aren't making Today Show money, the LifeSpan treadmill desk, choice of Cosmopolitan Editor-In Chief Joanna Coles, is an excellent option. By providing a large walking surface without taking up a ton of space, the LifeSpan fits perfectly in any sized office, while the Bluetooth memory technology stores and sends you workout data, so you can better keep track of your workouts and goals. Of course, its important to mix it up during the day, which is why we recommend making sure your desk has enough space for the treadmill and a chair to sit side by side.
Fortunately, our treadmill desks haven't let all this success go to their head. Starting at $1469, the UPLIFT Lifespan Treadmill Desk gives you the superstar lifestyle at an extra's price. What's next for the treadmill desk? A role in the new Superman movie? An on-again, off-again romance with Taylor Swift? An Oscar? With good health and increased focus and energy at work, the sky's the limit.
Related Reads:
Visit TheHumanSolution.com for the latest ways to stay healthy in the workplace.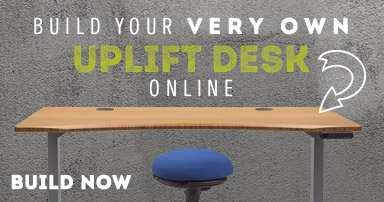 Interested in ergonomics?
Subscribe to our blog mailing list