Posted by Human Solution on Jul 17th 2013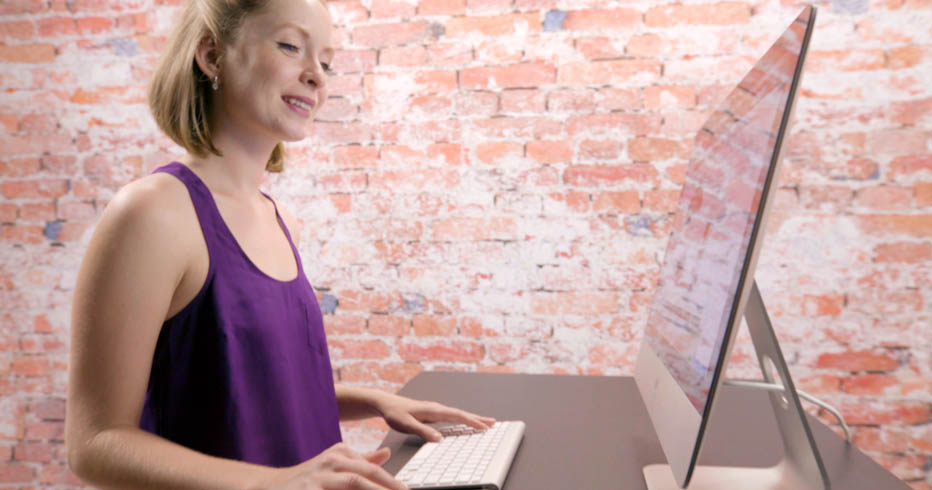 "Hey, how's the weather up there?" "Can you dunk a basketball?"
If you've ever been asked those questions, you just might be taller than most people. There are likely many things you've gotten used to dealing with, like your pants being too short, never being able to find your shoe size in stores and always being picked first for a game of pickup basketball (even though you were just walking your dog through the park and didn't even know those kids). Okay, so that last example may not be the worst thing that you could experience, but nonetheless, it is surely one of the many things that constantly remind you of how you stand out in a crowd.
There has, as you can imagine, even been research done on this topic to try and find a correlation between low back pain (LBP) and the height of a person. If you are "among the trees" though, you may not need the affirmation from a scientific study to tell you that you are more susceptible to low back pain, and ultimately, corrective surgery.
What you may not have known though, unless you are a frequent reader of Human Solution blog, is that the best remedy for back pain is not sitting down and taking it easy. Actually, movement is essential along with incorporating standing into your work day. Everything is better in moderation, right? Sitting all day to counter your back pain is not the answer. Having an active regimen at the office is really a form of physical therapy. The initial results may seem slight, but I can speak from experience on the benefits.
Before I started my job at Human Solution and before I was using a standing desk at work, I had had a fairly bad ankle injury I sustained while playing basketball. Compensating for my bum ankle and continuing to be active outside of work playing basketball and jogging, a new injury to my knee became an even worse problem.
The pain got to a point where I couldn't do something as simple as kneel or crouch down without a very sharp pain shooting through my knee as I stood back up. Needless to say, I wasn't crouching down to grab the cheaper canned goods from the bottom shelf at the grocery store. Really, the pain was hurting more not just my knee, but my wallet and my pride.
What did I do once it all got too hard to handle? I sat all day at work. Then I sat some more at home, cutting off most physical activity altogether thinking that if I rested my body it would heal itself. Actually, my knee pain got worse and I was not living a healthy lifestyle.
Once I started my job at Human Solution, I was able to make the switch to a standing desk, though with my pain I was skeptical of standing at work.
The perception is that if you have a standing desk, well, you stand all day. That's not at all recommended and frankly just as bad for you as sitting all day, as it brings its own set of problems. Moderation and variation, remember? Those are the keys. Before long, I was able to build up my standing endurance much faster than I thought I'd be able to.
Soon everyone in our department was given a desk treadmill to work with as well. Even with brisk walking (at about 2 mph) only after lunch and towards the end of my work day, as well as alternating between sitting and standing, I found my knee pain evaporating.
By varying my activity while working and keeping within moderation, I was able to rehab my knee in a way that I had never thought possible: while working in a cubicle at the office. Remember, my initial thought to healing was completely cutting off my physical activity. Boy, was I wrong.
I spent nearly six months not being physically active, making my injury worse, and it only took about four months with my new ergonomic, standing desk and treadmill setup to completely reverse it. Finally, I was able to reach those cheaper canned goods again and speak eye-level with toddlers! Things were on the up-and-up.
While I am not the tallest person even at my own office (I stand just under a modest six feet) and I may not know exactly how hard it is to find a size 14 shoe in stock, I do know how easy it is to find the right size standing desk for a tall person. Our UPLIFT Standing Desk has a maximum desktop surface height of 51.25".
If you don't know the optimum standing desk height range for your height, you are in luck. We have an ergonomic workspace height range calculator on our site. Check it out and see what your standing desk height range is.
The UPLIFT can accommodate a person as tall as 6'7". Not tall enough? Adding the optional locking casters to the base of the desk actually adds an additional 1.5" of height to the desk, comfortably within the recommended range for a person up to 6'9" tall (I'm talking to you, LeBron).
Go to HumanSolution.com, call 1-800-531-3746 or chat with us online to learn about more great ergonomic products for taller people.