Posted by Human Solution on Feb 27th 2014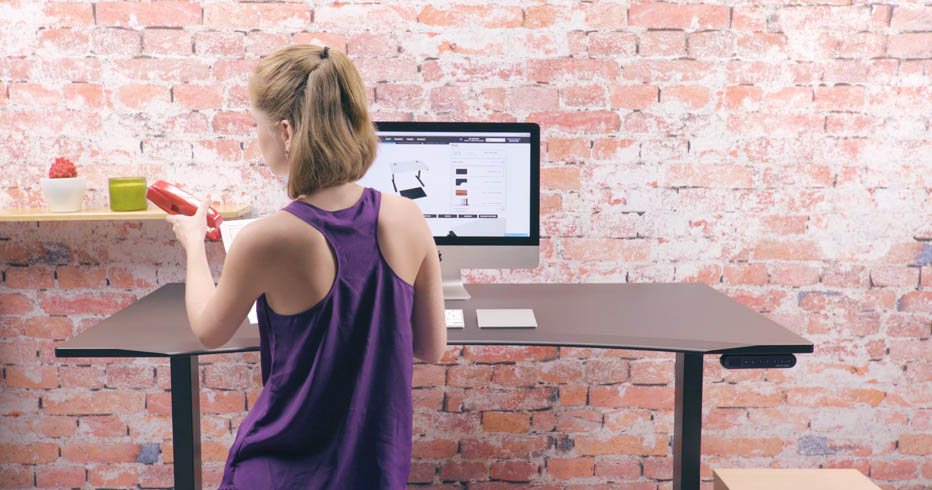 Why is UPLIFT Desk the #1 Standing Desk?
With standing desks entering the consciousness of the average office worker and making the rounds in the mainstream media, we know there's one question on everyone's mind: Which desk is #1? Which desk is the best? In terms of price, performance, versatility, and durability, the clear answer is UPLIFT . You don't have to take my word for it; check out Lifehacker's recent poll, where UPLIFT placed in the top five amongst all standing desks and was the most popular true height-adjustable desk in the survey. Fixed-height desk conversion systems – or "hacks" like the shelf sitting on soda cans shown in that link above – made up most of the remaining top 5. In this post, we'll highlight even MORE reasons why UPLIFT is the #1 height-adjustable standing desk available today.
UPLIFT is a True Electric, Height-Adjustable Sit-to-Stand Solution
So, why is UPLIFT better than a standing desk hack? Because it's not limited to being just a standing desk; it allows you to sit when you want and stand when you want. This is important because standing all day can be just as problematic as sitting. Trying to stand literally all day long may seem like an exciting test of endurance, but, in reality, it is a really good way to end up with sore feet, leg pain, and an impractical desk that you no longer want to use. Your goal should be neither sitting all day nor standing all day, but rather movement and variation. Adjusting your position several times throughout the day is a great way to stay energized, productive, and focused, while also battling the long-term risks that come with physical inactivity. While standing desk hacks may have the best intentions, they don't compare to being able to sit and stand throughout the day.
UPLIFT Has a Great Memory
It's the 21st century; you shouldn't have to search for the perfect height every time you adjust your position. That's why the UPLIFT Sit-Stand Desk has an optional modern digital display keypad control, with four memory presets. You can easily save your personalized sitting and standing heights and let your keypad do the rest. This is also an ideal feature for a shared standing desk workstation, as the quiet motors and three-stage leg bases create a smooth, quick transition between positions. I think of it like the seat adjustments in your family vehicle. You press your programmed number before you get in, and in a couple seconds, the adjustment is made and you're ready to go.
UPLIFT Has a Serious Height Range
UPLIFT has the widest height range of any height-adjustable standing desk on the market, ranging from 24.5" – 50.5". Need a little more height? Add a set of locking casters, and not only will you be mobile, but the casters will boost the desk's height by an additional 2.25". That puts UPLIFT's max height at a possible 52.75". It is truly the standing desk for tall people, smaller people, and everyone in between.
UPLIFT is Strong, Sturdy and Reliable
The UPLIFT is strong enough to lift up to 335 pounds. What does that mean? Well, it's more than enough to support multiple monitors, a computer, a keyboard, your favorite bobblehead, and a hundred cups of coffee! From Bluetooth desk speakers to stacks of books, nearly any set-up you can imagine is possible in one electric, height-adjustable unit that is guaranteed to last you for years to come. Check out our video showing the UPLIFT lifting two of our employees with no problem. Seeing is believing!
The reason our desks are able to lift so much lies in the structure and the quality of each piece we use to build an UPLIFT. Many electric height-adjustable stand-up desks you see on the market have only one motor for two legs; however, UPLIFT has motors in both legs, for maximum efficiency, strength and speed. The motor has been tested for over 20,000 cycles without failing. Assuming you traverse the full 26" height range with each cycle, that means the motor can travel over 40,000 feet, more than 10,000 feet higher than the elevation of Mount Everest, without wearing out.
Even with all this power, UPLIFT is a great choice for the energy-conscious, using very little electricity, especially when not in use (200 W, 0.2 W on standby). On top of that, the UPLIFT is BIFMA/ANSI X6.5-2021 Certified, proving its reliability and durability.
UPLIFT is DIY and Customizable
By now, you should understand the value of a height-adjustable standing desk instead of one that only lets you stand. But that doesn't mean you can't get creative and incorporate the UPLIFT into your own DIY standing desk. So throw away the soda cans, cinder blocks, and cardboard and order the #1 standing desk base on the market, the UPLIFT, without a top. Unlike other Do-It-Yourself options, the UPLIFT desk base is height adjustable, encouraging a truly active work day by allowing you to alter your position whenever it is comfortable to do so.
With the UPLIFT frame and a little creativity, you can make a truly legendary desk at a great price. By purchasing the base only, you still get the "best-in-class" warranty and service and you get to customize your desk however you want. Looking to mount a longer keyboard tray track? No problem; the crossbar is removable. Do you want to use an old family heirloom, a wooden door or reclaimed wood as your desktop? The world is your oyster with an UPLIFT desk base. Worried about your cat jumping on your keyboard? Mount a cat house next to the CPU holder so Fluffy can watch you work in comfort as well!
Even if you don't want to go totally DIY, you can get a beautiful, customized desk by choosing from the wide selection of handcrafted, real-wood desktops we offer. Each solid wood top is custom-made to order by one of our woodworkers here in Austin, using woods like Mesquite, Cedar, Bamboo, or Knotty Alder. And for those of us who aren't the second coming of Bob Vila, we offer complete, easy-to-use packages that come with everything you'd need (a CPU holder, a monitor arm, a keyboard tray, an advanced wire management kit and locking casters) to get your UPLIFT height-adjustable workstation built quickly and working smoothly for years to come.
The possibilities are endless, so go ahead and make UPLIFT the desk of your dreams.
UPLIFT Desk Has an Unrivaled Warranty
The UPLIFT Ergonomic Desk is our flagship product. That's why we are constantly improving the reliability of every element of this desk to make sure you get the best possible desk. This extends to our industry leading all-inclusive 7-year warranty.
The funny thing about being the industry leader is that people tend to copy you! We've definitely noticed that over the last two years, other electric, stand-up desks have started to offer 7-year coverage on certain parts in order to seem comparable, but the proof is in the details. Ours is 100% all-inclusive, covering everything from the motors to the wiring to everything in between, and we stand by it. If you don't believe us, read what our customers are saying about the UPLIFT Desk.
On top of our industry-leading coverage, the warranty process is easy. Our customer service team is ready to help with any problem, big or small, and all replacement parts come to you free of charge with no shipping fee to the continental United States and no hidden costs. Best of all, it doesn't take a degree in mechanical engineering to fix a problem. Even if the motor needs to be replaced, we will just send you a new leg and you can easily swap it out for the old one.
UPLIFT Desks are Easy to Assemble
If there's one thing easier than deciding to order an UPLIFT Desk, it's actually building the thing! The streamlined, simple process is so easy that all you'll need is about 45 minutes and maybe a friend to help you flip it over when you're done. Thanks to our experience, we've learned how to make it as simple as possible to build an UPLIFT. All you have to do is line the frame up where you want it and zip in the screws.
Even if you do struggle with assembly at any point, you can call us at 1-800-531-3746, watch our great step-by-step "how-to" videos, or live chat with one of our experts who can help walk you through every step.
UPLIFT has the Best Customer Service
The only thing we are more passionate about than our products is our customers. That's why The Human Solution puts customer service first. If you need help putting your new UPLIFT Desk together, you're having trouble figuring out which chair would work best for your back pain, or you need your monitor arms properly counter-balanced, we will be there to walk you through it. Call us at 1-800-531-3746, watch any of our outstanding "how-to" videos, or live chat with one of our experts. Don't be shy either! We love to help.
Of course, there's more to customer service than just answering the phones. We're proactive, patient, and incredibly responsive. Even Jon, our owner and CEO, picks up the phone from time-to-time to help customers find the perfect desk height or teach them how to adjust their chair.
So, why is UPLIFT priced so low?
One of the most asked questions we get is, "If UPLIFT is the #1 electric standing desk, why is the price so much lower than your competitors?" The answer is simple: We do it different, and we do it smarter.
Simply put, we are the manufacturer of our desks. That means there's no middle man to go through in order to get you the best possible desk at the best possible price. As a result, we can ship our desks quickly, resolve any problem you experience at light speed, and pass on all the cost savings to you. At the same time, we are able to hear your feedback directly and incorporate it into the product, all in order to make sure that you get the best value electric, height-adjustable stand-up desk for your dollar.
Who buys UPLIFT ?
Basically, everyone.
We don't have a "typical customer profile" like you would see in any other industry. The only common factor among all of the folks who buy UPLIFT Desks is that all of them are tired of sitting down at their desk all day because they know it's bad for them. We all know we need to move more to stay healthy, and getting out of an unhealthy, all-day sitting grind is the best place to start.
So, give your workday a jolt by introducing activity and movement with the #1 height-adjustable standing desk: the UPLIFT. And know, without a doubt, we'll be here to help and support you every step of the way.