A Glaring Problem: Office Lighting and Monitor Glare
A Glaring Problem: Office Lighting and Monitor Glare
Glare off a monitor screen is something to be avoided. It causes eye strain, especially over the course of days and weeks. This can lead to headaches, eye fatigue and other productivity-sapping problems. To fix it, one could change the lighting scheme in the office. This is sometimes possible, but with the workplace often having fixed overhead fluorescent lighting, that may or may not work. Also, what solves a glare problem for one employee may create a problem for another. Fear not, though. There is a solution that may work for everyone
An articulating monitor arm allows users to reposition their monitor so that it is at the right height and angle. Additionally, it can be positioned to avoid glare problems from overhead lights. With dozens of arms in our catalog, we have something to fit almost every office setup. A few of our favorite LCD monitor arms are the Humanscale M2 and the Innovative EVO arm for one monitor, or the Workrite Poise and the Humanscale M7 setup for two monitors. If you have unusual needs or just have questions, please let us know.
Also, you may like our height calculator, which gives good general guidelines about how your monitors (and the rest of your workspace) should be positioned.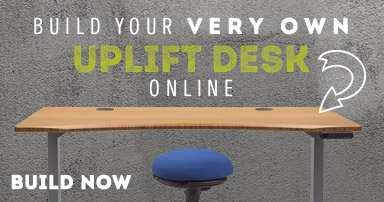 Interested in ergonomics?
Subscribe to our blog mailing list