Posted by Will Moore on Jun 17th 2016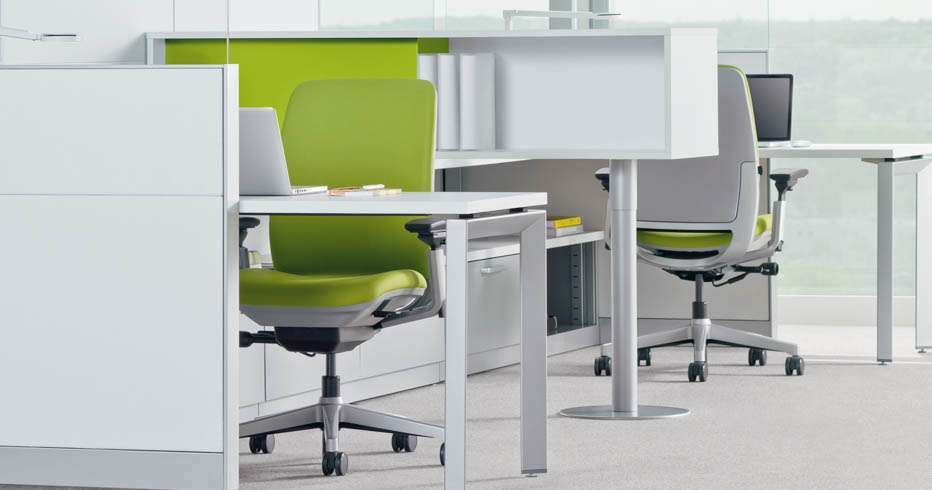 Working at an ergonomic furniture company has its advantages. Because the health and well-being of employees is as important as that of our customers, we here at The Human Solution all get a full ergonomic setup if we want it. Essentials like an adjustable height desk, monitor arms, keyboard trays, and ergonomic keyboards and mice are all available to us, and most of these can be found in every cubicle.
Maybe the biggest perk is that we get our pick of almost any chair we carry. When I first started here I tried out several different chairs, but the one I kept coming back to is the Steelcase Amia.
Sometimes seen as a more value-priced alternative to the Steelcase Leap Chair, the Amia is a great chair in and of itself, and, in my opinion and according to my needs, the most comfortable chair we sell.
One of the main reasons I try to sing the Amia chair's praises every chance I get when talking to a customer is the range of people it can fit. With its range of adjustability, including seat height and depth, lumbar support and tilt, the Amia Chair can fit users as short as 4'11" and as tall as 6'4". As seen in previous blogs, the Amia is one of the first chairs we recommend to petite users. However, I'm 6'1 and about 200 pounds and it fits me perfectly as well. All of its adjustments, coupled with its 400 pound weight capacity, make the Amia an extremely versatile ergonomic chair.
One feature that sets it apart for me from other ergonomic chairs is Steelcase's "LiveLumbar" technology in the backrest. Pronounced, rigid lumbar support tends to aggravate my back, but the Amia's adjustable lumbar support is a system of flexors that contours to fit your spine as you move. Not only does LiveLumbar move with you, but it is also height-adjustable, sliding up and down easily by adjusting two handles on either side of the back. I have yet to find an ergonomic chair with lumbar support this comfortable without sacrificing support.
While it's a feature on most all Steelcase chairs, probably the biggest selling point of the Amia is its adjustable arms. This is another of the many reasons why the Amia can fit so many people – with an arm width range of 15 to 20 inches, as well as a wide range of height adjustment, the chair's arms can be adjusted to fit almost any body type. The arm pads themselves can move in and out and forward and back, so not only can they adjust to fit different users, they are great for adjusting to different tasks as well. I find myself shifting them constantly depending on what kind of work I'm doing or where at my workstation I'm focused. This is the point of ergonomics – adjusting your workstation to fit you. All this, and they're incredibly comfortable to boot.
So if you're in the market for a great mid-priced ergonomic chair with all the ergonomic adjustments of a high-end chair, the Steelcase Amia Chair is definitely worth checking out. In fact, many of us here (including me, of course) prefer this one to even the Steelcase Leap, the Amia's somewhat pricier relative. Luckily, with Steelcase's return policy, you don't have to take my word for it. You can order one today and try it out, with free returns within 30 days. So if you think the Amia may be right for you (and the odds are you're right), just give us a call at 800-531-3746, contact us via live chat, or email us at info@humansolution.com and one of our experts will be happy to help you.