Posted by Peter Arevalo on Jun 6th 2012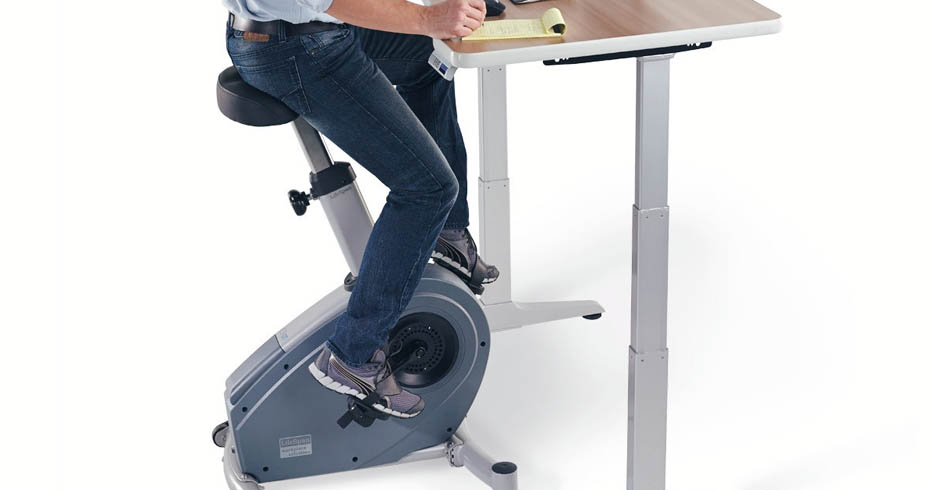 Human Solution's UPLIFT Treadmill Desk can help you revolutionize the way you keep active in the increasingly static work environment. Simple exercises such as walking several times a week have shown to provide huge improvements in overall health, and the convenience of having a treadmill at your desk allows for an easy commitment plan. Now we're happy to offer another healthy alternative for those looking to get the most out of their routines, The UPLIFT Bike Desk.
The UPLIFT Bike Desk is another exceptional way to stay fit and improve cardiovascular health in your working environment. Not only does your entire body benefit from biking daily, but the increased activity will help you to burn more calories, stay more connected, focused, and organized.
Our bike options – the recumbent bike, the upright bike, and the LifeSpan bike -- are more comfortable and safer than traditional street or mountain bikes. I use the recumbent bike at my desk, mainly because it promotes good posture as I pedal, and it doesn't require me to bend my head or back. This natural position results in less pain and stress on the joints, which makes it an ideal solution for those who suffer from back and neck pain. (The upright bikes are also safe and comfortable options, and help boost circulation and cardiovascular health, improve cogitation and productivity, and burn more calories during the work day.)
The recumbent bike features eight settings that allow you to control the intensity of your workout. Your progress is easily tracked with the attached LCD screen that will display your distance, heart rate, speed, scan, and calories burned.
If you are having trouble deciding between a bike or treadmill desk, check out our collection of desks that work with treadmills or bikes to get you going in the right direction. Your needs may vary according to your personal fitness level and goals. Regardless of which you choose, there is no question that the addition of the UPLIFT Bike Desk or the UPLIFT Treadmill Desk will put you on the right track for transforming your office into a healthier workstation.
Check out our UPLIFT Bike Desk video review: