UPLIFT Height-Adjustable Bike Desk
UPLIFT Height-Adjustable Bike Desk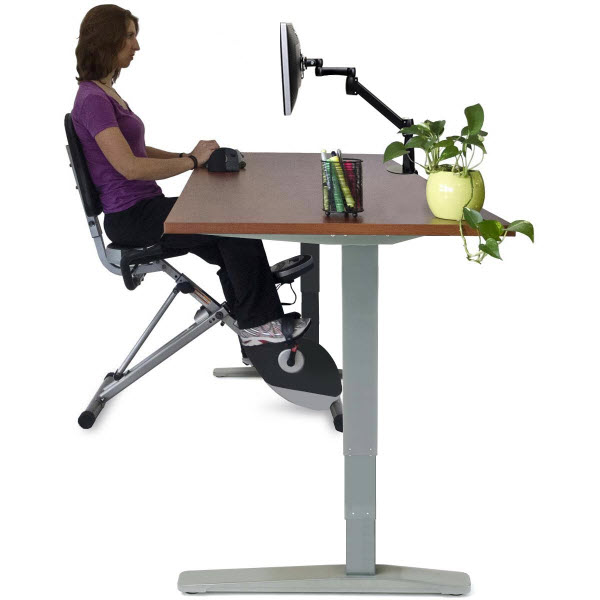 The UPLIFT Height-Adjustable Bike Desk offers users a safe and easy solution for staying fit at the workplace. Go with a LifeSpan C3-DT3 Upright Desk Bike or a recumbent bike and choose the style and size of your desktop from our many desktop offerings, like GREENGUARD Certified laminates, UPLIFT Eco desktops made from recycled wood, 1" thick bamboo, reclaimed Douglas fir or teak, and even handcrafted solid wood on our best-selling UPLIFT Sit-Stand Ergonomic Desk. UPLIFT Height-Adjustable Bike Desks enable workers to stay productive while enjoying the considerable health benefits of a low-stress workout throughout the day.
Although the recumbent bike is currently unavailable as a stand-alone item, it is still orderable with a desk. For a custom quote, chat with us or call one of our ergonomic experts at 800-531-3746.
A height-adjustable desk offers numerous health benefits on its own; pairing a sit-stand desk with a stationary bike multiplies those benefits. An active workstation, such as the UPLIFT Height-Adjustable Bike Desk, boosts circulation and cardiovascular health, increases calorie burn, and helps to improve cogitation and overall productivity. In layman's terms, it just plain makes you feel better at the end of the day. Riding a stationary bike is a low-impact workout that is suitable for all ages and levels of fitness. For those people looking to get on the right track to workplace fitness, the UPLIFT Height-Adjustable Bike Desk is just what the Professor ordered!
Prefer to walk while you work? Any of our popular two-leg UPLIFT height adjustable desks can be ordered with a treadmill to create a full-featured, customizable treadmill desk.