Posted by Tyler Reinhardt on Oct 23rd 2017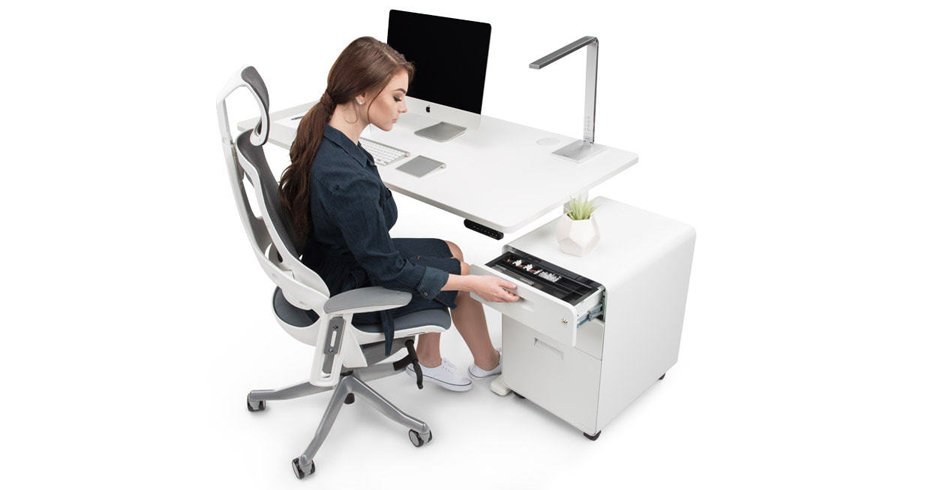 Baby, it's cold outside. Or at least it will be. Unless you live in Florida. Then again, you can often spot people wearing jackets in 80 degree weather so it seems that cold is relative and everyone's about to experience it because as the saying goes, "Winter is coming." And nothing says winter like white. The color of ice, snow, and the majestic polar bear. Such a lovely hue would no doubt add a bit of crispness and elegance to any furniture or office that it might be applied to, no?
Well just in time for the holidays, the ones with the gratuitous amounts of food and family awkwardness, UPLIFT Desk has brought in some old fan favorites and given them an aesthetic makeover. The once rather restricted color palette now includes white, giving you the option to accent your office. Or, if you're really into it, go all out with a fully white workstation.But if functionality is more your thing, we don't mind walking through a few specifics.
Let's start with the centerpiece and focal point of any office that's missing a fish tank, the desk. The UPLIFT Desk has been getting more and more popular over the years. It could be the superior quality or it could be the affordable pricing. For whatever reason though, the UPLIFT is a fantastic desk that's available in all sorts of styles. If the desk of your dreams comes all in white - congratulations! You've got a couple of options then. The frame itself is pretty standard. It operates like every other UPLIFT frame it just happens to be white. The tops though have a bit of variance. The two options for the white coloring are the GREENGUARD laminates or the Eco laminates. You'll notice the main difference is the thickness of the top. The GREENGUARD laminates are about 1" thick and the Eco laminates are a bit thinner at ¾" thick. Both are very sturdy and made through sustainable processes which is great for Mother Nature. There are some aesthetic differences with the desktop surface. The GREENGUARD laminates are a dense particleboard core that is then wrapped in the laminate surface with 3mm PVC edges. This leaves a seam between the edges and the main surface. The Eco laminates are a similar core but rather than being wrapped, they're powder coated and cured under UV light. This gives the tops a seamless finish.
Once you've got your frame and your desktop picked out, the next step is figuring out your keypad. It's the switch that controls the height adjustment of your desk. If the theme you were going for is "all white all the time", the Advanced Digital Keypad option is now available in either black OR white. Both have programmable preset buttons and a digital display. One just happens to be black and the other just happens to be white. It really just depends on the look you're going for.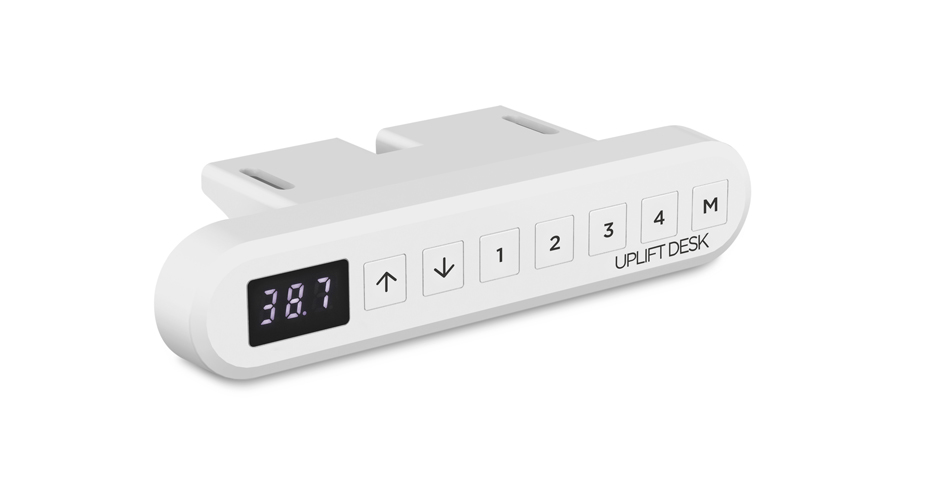 Another way to accessorize your desk is with the grommet option . You have two choices of grommets, either the wire grommet or the power grommet. Wire grommets are basically just holes in your desk with a fancy cover that you can feed wires through. The power grommet, on the other hand, is an insert that actually turns the grommet hole into a power outlet, allowing you to plug things directly into your desktop and minimizing the amount of stretching required from your cords. Regardless of which grommet insert you choose, you have the option of getting it in black, gray, or white. Again, you can either use it to accent whatever décor you've got going on or you can just pick whichever color blends in with your desk top. Since we're basically accessorizing from head to toe, you can also switch out the leveling studs of your UPLIFT Desk with the UPLIFT Locking Casters which not only provide additional mobility, but are also available in either black or white depending on how strictly you want to follow the white color scheme.
For those wishing to free up some desktop real estate, the UPLIFT View Monitor Arm is a good solution for getting your screens off of your desk surface and into a more ergonomic viewing position. They're compatible with 10 - 30 inch displays and have a weight capacity of 4.4 – 19.8 pounds, which means they'll work with most standard screens. And of course, since the theme of this post is style, you have your choice of black, gray, and, of course, white.
One other thing you may want to consider if you're going for an all-white theme or just want to accent some darker décor is the Pursuit Ergonomic Chair by UPLIFT Desk. Previously only available in black, you can now also get them in white. Again, the functionality is totally the same but now you have more options to customize your space.
No matter what theme you have going for your office, there are now a variety of UPLIFT products with enough options to make your space uniquely yours. We do carry some other products as well if you find yourself still searching for a particular gadget or accessory. Lucky for you we have a dedicated team on standby waiting for your call at 800.531.3746.