Posted by Human Solution on Sep 16th 2015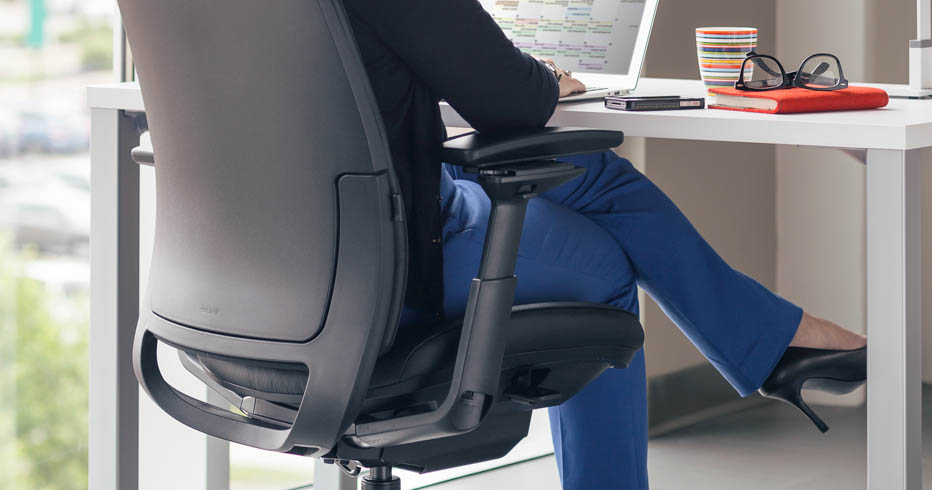 Just as with those individuals who are taller or heavier than the average body, petite people have a difficult time finding a chair that fits properly. Most chairs, even when adjustable, are designed to fit the 5th - 95th percentile. A 5'2" female is technically right at the 5th percentile, but will still find that most chairs are really not scaled properly. An improperly sized chair can present genuine health risks. A seat that is too deep can create circulatory problems for the lower legs. A properly fitting seat has two to four fingers' width of space between the front of the seat edge and the back of the knee. Too high a seat can also cut off circulation to the lower extremities; however if seat height is the only fit problem, a foot rest is a quick and inexpensive fix. Many chairs have a seated height that starts anywhere from 16" to 19" or more. Given that the correct seated height for a 5' tall person is 14" and only 15.5" at 5'4", too high a seat is a common problem.
Arms that are too far apart limit support for the shoulders and arms. Proper support of the arms is part of the solution to prevent hand, arm, thoracic, and neck problems, so improperly placed chairs arms can rule out an otherwise great chair. In addition to these fit issues, the lumbar may hit in the wrong place and the headrest miss the head if the chair back cannot be adjusted to fit the smaller person. Note to heavier people: a heavier, short person might not need as shallow or narrow a seat as their hips will require a larger space to fit comfortably and may be perfectly suited for a standard sized chair, provided it is equipped with a shorter cylinder to offer a lower seated height range.
Great chair options for petite ladies
Three chairs we've found that fit an amazing range of bodies are the Steelcase Amia chair, Steelcase Leap chair, and the Steelcase Think chair. In addition to having a generous seat depth range, these seats are narrower than many, and the standard arms can be slid inward, close to the body. These chairs are especially well suited for corporate environments where one chair may have to fit many users over its lifetime. Neutral Posture, Bodybilt, Ergocentric and Via all offer chairs with the option of a small or even extra small seat. Seating Inc. has several models that offer a petite version that is scaled to fit a smaller body. Thus it is possible to offer an entire office a uniform appearance while fitting different body sizes. All of these companies offer arm options as well, that at a minimum are width adjustable. Some models have arms that will pivot inward or offer a double pivot, allowing the user to bring them closer to the body.
Some of our favorites
In addition to the Steelcase chairs named above, The Ergocentric GeoCentric chair is comfortable, well built and an excellent value. The Neutral Posture XSM Petite chair is designed for the ultra-petite, under 5' tall person and can work well even for an extremely petite person - as short as three feet tall. I'm 5'1" and bought a Neutral Posture NPS8500 chair for my personal use (without the headrest) and absolutely love it. A great home office chair at a budget price is the ErgoCentric Saffron Apt chair, which starts just above the $200 mark. The Bodybilt J2406 chair or Bodybilt J3406 chair are the ultimate in comfort and are highly customizable, making them the best choice for those with serious pain issues. All of these can be customized into a drafting stool with height adjustable foot rings for leg support to accommodate a taller desk or a sit to stand workstation.
In summary, just as with any other body size, getting a chair that fits the body correctly is the key factor to all day comfort and injury prevention. While it is more challenging for the petite person to find a good chair, there are excellent options out there.
Get more expert advice at TheHumanSolution.com.