Posted by Tyler Reinhardt on Sep 22nd 2017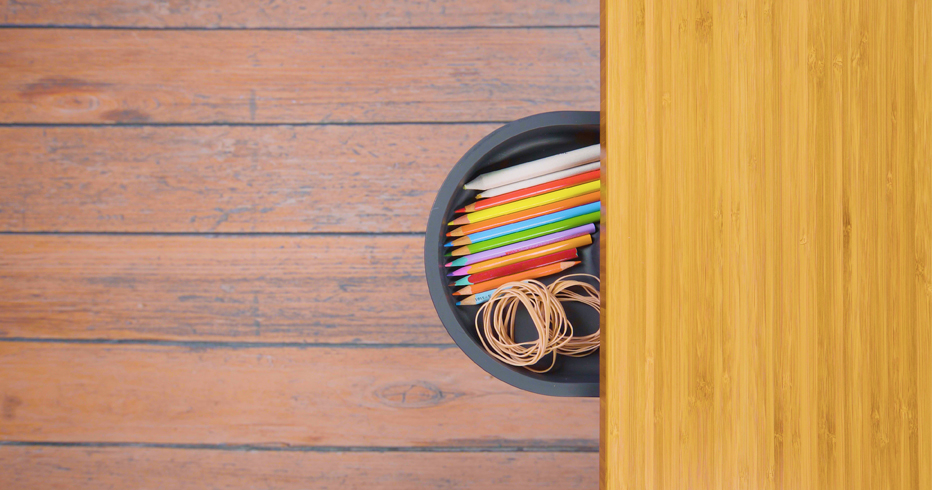 This product is currently available for pre-order only. Expected to ship in early October.
Everybody likes to have stuff. Stuff is why you work for however many hours a day. You make that money. And then you buy stuff. The problem with accruing stuff is that it has a tendency to take up space. If you have a lot of space, such as the square footage of an apartment, you can generally make do. However with office setups, space is an incredibly valuable thing. It's all the more valuable because the amount of square footage you have to work with is generally far less than what you have in your home. Most times, the amount of space you have is limited to the surface of your desktop. So naturally you want to save as much space as possible while making sure you have all of the stuff you need to get through your day. So what do you do when you need to free up a little space on the desktop? You get some storage like the UPLIFT Half-Circle Desk Drawer. The Half-Circle Desk Drawer is a bit large though and as a result doesn't always fit the desk it's attached to, which is why UPLIFT has introduced the new Small Half-Circle Drawer.
Those who are familiar with the classic Half-Circle Desk Drawer are probably wondering what's so special about the small version. Well to start, it is a small version. It's about half as wide as the old Half-Circle Desk Drawer. How does this help you? Well, prior to this nifty doodad, your only option was the old school Half-Circle Drawer which, unless you were willing to make a lot of compromises, did not easily fit smaller desks. You could make it work with a 60" top but getting it to fit something smaller like a 48" involved some combination of determination and the skills of a Tetris aficionado. Now with the smaller version of the Half-Circle Drawer, you have an accessory that takes up about half as much space in terms of width. It features a relatively roomy U-shaped compartment, low profile for discretion, and with its rotating design, it is easily opened from either side. For those situations where your desk is lacking in space, this version of the Half-Circle Desk Drawer is the one for you.
Of course, for larger or more average sized desks, our original tried-and-true Half Circle Desk Drawer is a fantastic way to get some of those post it pads, paper clips, pens, pencils, etc. out of sight and out of mind. Like the smaller version it mounts to the desk using a central mounting system that consists of a stationary point that is attached to the desk via wood screws, around which the rest of the accessory rotates. Just as a heads-up! The drawer uses leverage to function so if you can't rotate your drawer around the mounting piece when you take it out of the box, fear not! Your drawer isn't broken. It just needs to be mounted to the desk before it can function.Regardless of which version you need, you can purchase the drawer as a standalone item or as one of the options when you purchase an UPLIFT Height Adjustable Sit Stand Desk.
Now that you have a couple of storage options for some of your stuff, you may have some questions about which option is right for you. For desks that measure in at under 60" x 30", the Half-Circle Desk Drawer is for you. If you're still unsure however, we do have a very talented and knowledgeable customer service staff that can be reached at 800-531-3746. They'll be more than happy to talk with you about your setup and the options that'll optimize your workspace for maximum performance!