Posted by Human Solution on Oct 2nd 2009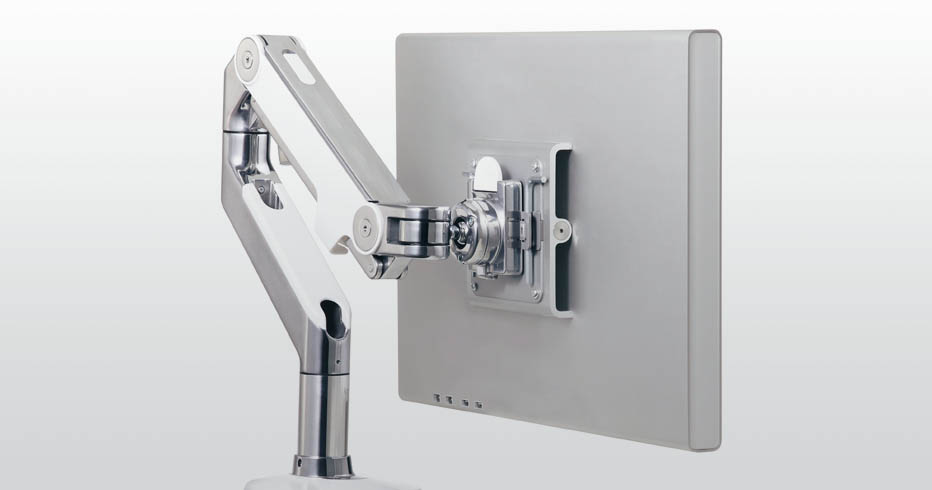 Apple users are often left to dig in the leftovers bins when it comes to ergonomic products. Recently we have noticed a surge in Mac products by some of our favorite manufacturers. As the designated Mac geek in the office, I have listed a few of my favorite new Mac ergonomic products.
Monitor Arms
Innovative LCD Arms recently introduced a pair of monitor arms designed specifically for Mac monitors. Users with older Apple Cinema Displays will love the Innovative Cinema Lift. For big ticket desktop users the Innovative iLift will support an Apple Cinema Display up to 30 inches and an Apple iMac up to 24 inches. Apple cinema displays and iMacs require a proprietary VESA adaptor available directly from the Apple Store.
Keyboards
Kinesis makes my favorite Mac keyboard. The layout has been thought out specifically for Mac users, not adapted from their PC model. Users will find a full layout of Mac hotkeys and icons as well as a few extra treats. A column of keys at the left include programmed macros for cut, paste, forward and back in your browser plus a few other goodies. Package the Kinesis Freestyle with a 10-key numeric pad and VIP accessory kit for a full ergonomic keyboard setup.
Goldtouch
Goldtouch is an industry leader in ergonomic keyboards and they now have two great options for Mac owners. The Goldtouch Keyboard is the Mac compatible version of the company's best seller. It is now available in both black and white. You don't have the hot keys, the function keys are out of order, but it is still very user-friendly. The brand new Goldtouch Go is a great laptop keyboard for MacBook and MacBook Pro owners. The Go packs easily into your laptop bag and features a built-in key protector to keep from banging up keys in transit.
Mice and Input Devices
The Evoluent mouse is the top mouse recommended by nearly every team member in our office. The natural handshake position of the mouse reduces fatigue and risk for RSI related injuries. Unfortunately for Apple users the programmable pinky and thumb buttons don't work on Mac, but it is a sacrifice I am happy to make for the comfort of the mouse. This is not only a product that we recommend and sell at work, but also use at home.
Keyboard Trays
It might be a stretch to call the Humanscale 900 a Mac keyboard tray, but the slim design and silver metallic color fit in well with the Apple aesthetic. This keyboard tray would be a great addition to your 30-inch cinema display dream workstation.
Laptop Accessories
Mac users are always quick to accessorize. Our selection of laptop stands handily folds up to fit into even the smallest pocket of your computer bag. The stand opens into a sturdy base for your laptop. Choose Mac white to stick with your monochromatic Mac theme, or go retro and opt for the sea foam green model.