Posted by Will Moore on Apr 14th 2016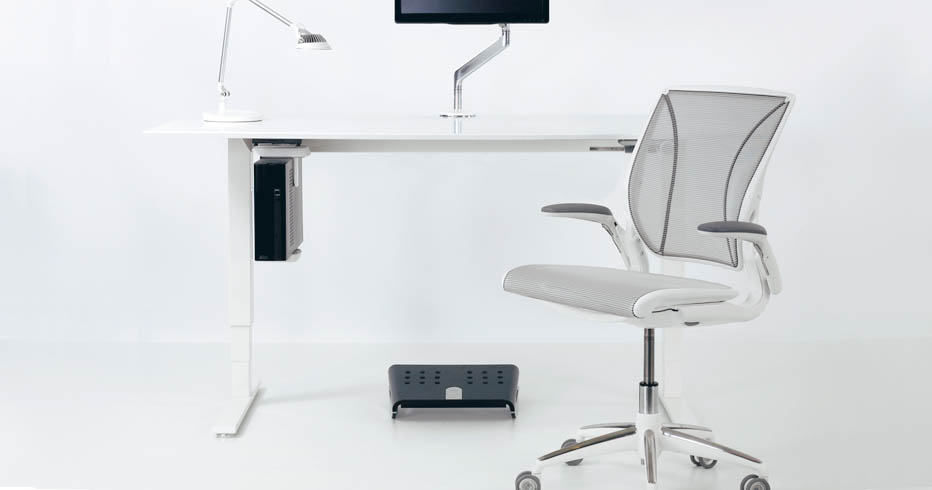 Humanscale is responsible for making some of our most popular ergonomic chairs and workstation accessories. When someone is looking for a quality standard keyboard tray, we almost always steer them first toward the Humanscale 900 Keyboard Tray System for its ease of use and versatility. In fact, many of my conversations with customers eventually lead to Humanscale products. Oh, it's a great chair you're looking for? Take a look at the Freedom Chair. Monitor arms? Check. LED task light? You bet. Er, Mouse Mate? Why not? Just about anything you can put on or at your desk, Humanscale offers.
But what about the desk itself?
Sit-stand desks were the one area Humanscale had yet to go. So all of us here knew it was inevitable that they would enter the adjustable height desk market eventually, and when they did it would definitely be a product worth the wait. So it came as no surprise that when inevitability became reality, the result was the Humanscale Float Table.
The Humanscale Float Table was so named for its work surface's near-effortless ability to "float" from a sit to stand position without using an electrical motor or one of those cranks your great-grandfather used to use to start his car. Instead, it uses a constant-force counterbalance mechanism that makes adjustment quick and easy. Other tables offer the same kind of one-hand adjustment free of pesky electrical cables or cranks, like the Steelcase Airtouch, but there are several features which set the Humasnscale Float apart.
For starters, its 20 inches of one-handed, tool-free adjustment is the best around for this type of mechanism. Also, it can handle up to 120 pounds of desktop weight, and that's not even counting the table top. A table top, mind you, that has an optional width as big as 72 inches. (You can even purchase the Humanscale Float Base only and use another manufacturer's desktop if Humanscale's doesn't fit your needs.) Also, despite its hefty weight capacity, there's no annoying support beam to take up valuable leg space under the table. And for our more accident-prone customers, there's a safety feature to keep the table from "floating" right into your chin when counterbalanced incorrectly.
I'm sure you've heard about the health benefits of sit-stand adjustable height desks or tables, but for those who are a little late to the party, the advantages of being able to intermittently stand at your workstation are innumerable. Sitting for extended periods of time can cause circulation and pain issues, and standing all day isn't much better. Having the option to go from a sitting to a standing position a few times a day can help offset a lot of future health problems.
I can also tell you from personal experience that using a sit-stand desk does wonders for your energy. I probably don't do it as often as I should (it's recommended you stand 15 minutes for every hour of work), but when I do stand at my desk, I notice an immediate increase in energy and productivity. We all use them here in the office, and all day long you can hear the hum of our electric sit-stand desks going up and down.
Since its release, the Humanscale Float Table has been one of the more popular options for an alternative to electric height adjustable desks. It's able to go where models that require electricity can't, such as office spaces with limited access to outlets. While the UPLIFT Desk is still the most popular desk that we sell, the Humanscale Float Table is a great product that deserves consideration when upgrading to a sit-to-stand workspace!