Posted by Human Solution on May 4th 2016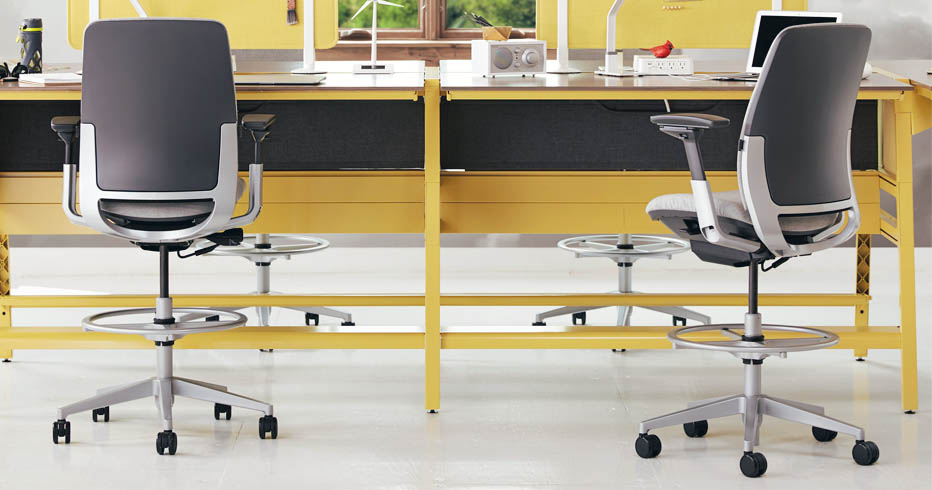 Here we are, in the era of state of the art ergonomic office environments. Here at HS, we all have adjustable height standing desks, and we all use desk treadmills. And yet some of us find ourselves sitting. But it's OK! Those blessed souls only sit for part of the day. We recommend standing or walking at your adjustable height desk at least 15 minutes every hour during a standard eight hour work day. The idea is to not sit all day.
So at some points in the day, like everyone else, some of us just want to sit. Maybe it's to sip our coffee slowly in the morning or perhaps when we have some serious reading or number crunching to do. If you have bought a standing desk or a drafting table for your workspace, you've probably found yourself in a similar position at some point.
If you're going to sit every now and then, do it in style and support your now hard-working back and legs with an ergonomic chair that offers strong lumbar support. And if you want to sit tall, we have several ergonomic ergonomic drafting chairs that will keep you comfortable.
One of our favorite ergonomic drafting height chairs is the Steelcase Amia Drafting Chair. The Amia is one of our most popular, intuitive and elegant chairs, and the drafting chair version adds a taller cylinder and footring to the standard Amia. This chair fits 95% of the population. The craftsmanship of this chair is unsurpassed by any other ergonomic chair, and it's adjustability is designed so that you are never stuck in one position or another. Read: you'll be comfortable. You'll be pain free. You'll be spinning around in your drafting chair out of sheer joy.
Check out this Amia chair video review, which displays all the great features and ergonomic benefits also available in the Amia drafting chair:
The Amia's sister chair is the Steelcase Leap, also available as a drafting chair. The Leap is another best-seller that, like the Amia, is known for its fantastic lumbar support. The chair's LiveBack technology moves and shifts as you move your body, supporting you in every position. If you'd like to compare these two award-winning chairs, you can read our blog post here: Steelcase Leap and Amia Review.
If you love the idea of the Amia, but would like a contemporary, cooling mesh, then you may thank designer Don Chadwick. Chadwick designed the well-known Aeron chair, one of the first ergonomic chairs. He also designed the Knoll Chadwick Drafting Chair, a fashionable concept with perfectly executed ergonomic adjustments that belie its simple, clean lines. The curved seat back offers ample lumbar support, and Knoll's Active Suspension Mesh is guaranteed to keep you comfortable.
For a lower cost option, you can follow in the footsteps of one of the nation's biggest grocery chains, Safeway. Safeway has standardized Office Master Sit to Stand Work Stools for all of its register clerks. The stool allows you to sit or perch while in a standing position, and it will alleviate those lower back aches and pains that come with a static position.
Finally, many ergonomic chair buyers will recognize the Humanscale Freedom Drafting Chair. This unique and graceful chair is aptly named, its minimal adjustments and counterweight mechanism enable you to move freely and change position while fully supported.
If you have any questions surrounding your standing desk setup, please give us a call at 1-800-531-3746. You can also chat with one of our ergonomic experts online. We look forward to talking with you!