Posted by Human Solution on Apr 29th 2016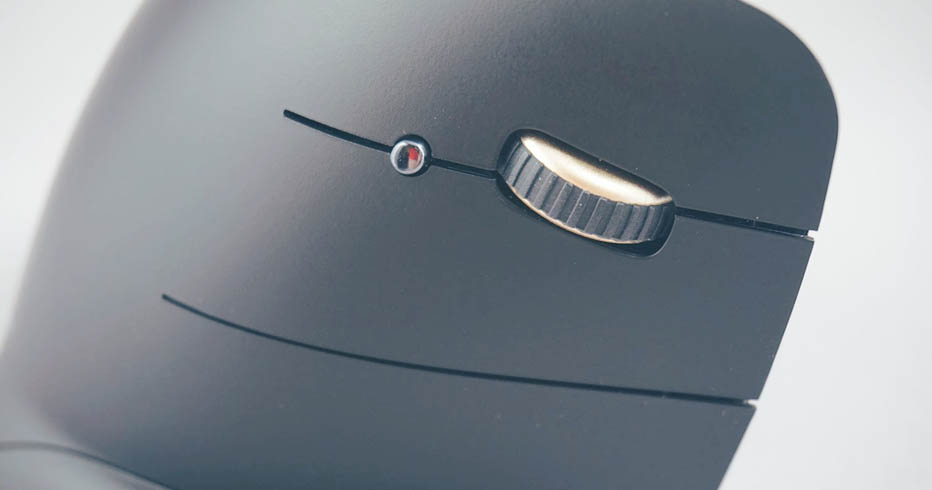 If you work a typical desk job, chances are you're very well acquainted with your computer mouse. Unfortunately, there's also a good chance you're familiar with how uncomfortable using a standard computer mouse can be. The old two-button mouse design has stayed relatively unchanged over the years, and numerous workers have felt the pain of repetitive stress injuries (RSIs) and carpal tunnel syndrome as a result. If you're tired of being in pain while working at your computer, it may be time to ditch your old mouse and upgrade to a new, ergonomically-friendly device. Here are a few popular options that'll give your ailing hand a hand.
Kinesis's DXT Mouse 2 is a unique, compact mouse designed to rotate your hand outwards and increase accuracy by encouraging a fingertip pinch grip. The slim design and neutral button position promotes a healthy vertical grip, which helps to alleviate pressure on the wrists when in use. For those who find themselves in need of a portable, ambidextrous mouse, the DXT Mouse 2 fits the bill, being compact enough to fit easily into a briefcase and able to switch between right-hand and left-hand operation with the press of a button. A wireless model is also available.
If you're in need of an even more portable ergonomic mousing solution, the Penclic Mouse puts the functionality of a mouse into an intuitive pen design. Five buttons and a scroll wheel make it easy to quickly and comfortably move your mouse cursor, with a naturally-relaxed posture that eases pressure on you wrist. Both a wired and wireless model with a rechargeable AAA battery are available, as well as a Mac-compatible Bluetooth version. However, we've found that while the Penclic can be comfortable to use for short periods of time, over time it can prove less comfortable than larger ergonomic mice.
One such alternative is the Penguin Vertical Mouse. While not as portable as the Penclic or the DXT mice, the Penguin allows you to rest your hand naturally on the mouse while working. Three different sizes are available in both wired and wireless models, meaning there's a Penguin Vertical Mouse for every user. Left-handed and ambidextrous users will also find the Penguin to be a great fit, as its unique symmetrical design allows users to switch hands on the fly by simply pushing down on the "bowtie" switch. While the Penguin may be one of the bulkiest mice we carry, it will help keep your mousing hand comfortable regardless of size and grip technique.
Last but not least, the Evoluent Vertical Mouse 4 has been a mainstay of the HS offices for years, and for good reason. Six programmable buttons, adjustable DPI sensitivity settings, and a minimalistic ergonomic design have made the Evoluent Vertical Mouse a long-standing favorite solution for users suffering from mousing pain. The unique shape of the Evoluent Vertical mouse reduces pronation of the wrist as much as possible and reduces the amount of grip strength needed to use the mouse, while providing a subtle pinky flange to rest your hand on. For PC gamers, the Evoluent Vertical Mouse's intuitive shape and adjustable laser sensor speeds provide incredible pointer precision with a minimal learning curve. The Evoluent Vertical Mouse family keeps growing too; in addition to the small, left handed, wireless versions, and the wireless Bluetooth model, Evoluent has recently redesigned the original mouse into the Evoluent Vertical Mouse C. This newest edition features an even more relaxed design including a larger lower lip to rest your pinkie and a new "C" shape that fits the curve of your hand even better! It's available in either a wired or wireless version so you're free to choose whichever best suits your needs.
Of course, not every ergonomic mouse design will be ideal for all users. If you'd like personalized recommendations on the best ergonomic mouse for your needs and budget, give us a call at 1-800-531-3746 or send us an e-mail at info@humansolution.com and we'll be glad to help!
Learn more about ergonomic mice at TheHumanSolution.com.