Posted by Will Moore on Jul 12th 2012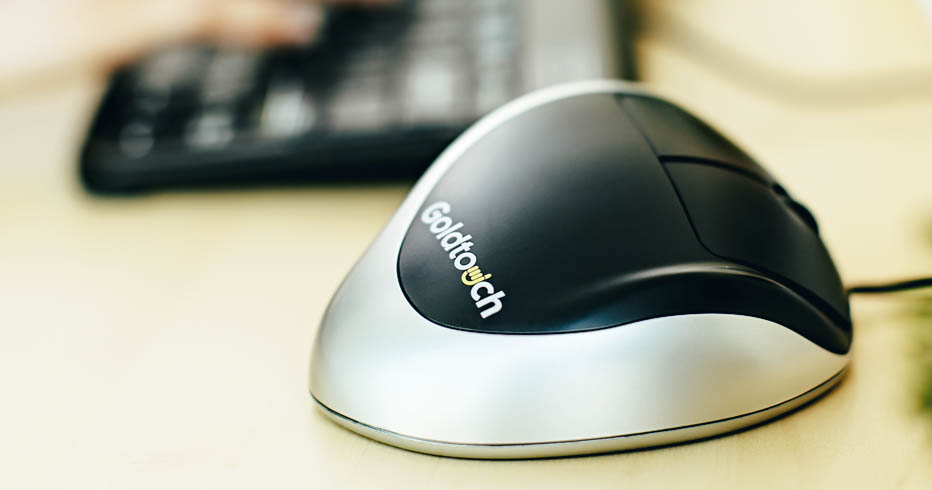 One of the quickest, easiest and most affordable ways to make your home or office workstation more ergonomic is to switch out your traditional mouse for an ergonomic mouse. Much of the pain people suffer when using a computer for eight or more hours a day is due to the strain of a standard mouse. Regular mice pronate your wrist and require you to grip them unnaturally, instead of putting your hand in a more neutral and less stressful position. Human Solution has a variety of ergonomic mice and mouse alternatives that can help you fight the pain and repetitive stress issues caused by using a traditional mouse.
Our most popular ergonomic mouse is the Evoluent Vertical Mouse, which puts your hand in a neutral and relaxed vertical "handshake" position. While it does have a bit of learning curve, most users love it after only a few days, and can immediately feel a reduction in wrist, hand and shoulder pain. The Evoluent has a smaller model, a left-handed model and wireless models as well, making it easy to find the Evoluent that's just right for you. In fact, we have several brands of vertical mice to choose from, including joystick-style mice like the 3M Mouse and the Penguin Mouse.
If a completely vertical mouse is a bit much for you, we carry other contoured mice that can still greatly improve the ergonomics of your mouse use. Mice like the Goldtouch Mouse, the Handshoe Mouse or the Airobic Quill Mouse are all contoured more naturally to the shape of your hand and help to place it in a more neutral, relaxed position. We also offer The OrthoMouse, which includes adapters that can change the shape and size of the mouse to more comfortably fit your hand.
While their shape is a vast improvement over a traditional mouse, mice like these still function more or less the same, and are still kept in the same place next to your keyboard. Although the shape of a traditional mouse can lead to repetitive stress issues, the act of reaching for your mouse and moving it can be just as damaging. One of our most popular alternatives is the MouseTrapper Advance Mouse, which cuts down on reaching, gripping and wrist pronation by centering the mouse between you and the keyboard and working like the trackpad on a laptop, only much easier. With its polyurethane wrist supports and soft steering pad, this ergonomic mouse solution will immediately help provide relief from mouse-related pain issues.
For gamers or those with severe injuries or specials needs, we even offer hands-free solutions that perform most or all of the functions of a traditional mouse. From head mice like the TrackIR and the SmartNav to the pedal mice like the Foot Mouse Slipper Mouse, we have an array of options for hands-free mousing. We even carry the futuristic Eye Tech EyeOn, which follows your eye movements to control your computer. These hands-free options are an especially good solution for those suffering from nerve or spinal issues.
So whether you have specific pain issues you need to combat, or if you just want to prevent pain from occurring in the first place, chances are we have an ergonomic mouse to meet your needs. It's an easy first step in updating your workspace to a completely ergonomic one.
If you want to check out these or the many other ergonomic mouse options not covered here, check out our handy ergonomic mouse page, complete with a mouse selector tool, to find the right one for your specifications. As always, feel free to give us a call at 800-531-3746, talk to one of our mouse experts in live chat, or email us at info@humansolution.com and we will help you find a mouse that fits.