For greater stability, a better value, and extra accessory options try a two-leg Space Saver Standing Desk from UPLIFT Desk. If you already have a desk you love but want to add height adjustability, we recommend the E7 Electric Standing Desk Converter by UPLIFT Desk.
Please note that all Conset desks and desk bases ship via freight. If you think this will be an issue, please click on the banner above and consider purchasing an UPLIFT Desk.
Affordable, all-in-one ergonomics for the win. The Conset 501-19 8X095 Laminate Electric Sit-Stand Desk is the next level ergo-friendly desk to get you working better in seconds. Give your body the freedom to move, sit, and stand with 20.5" of seamless height adjustments, smoothly raising and lowering to your comfortable working heights at a rate of 1.1" per second.
Your desktop gear will have a functional new home on this revolutionary pedestal sit-stand desk, which is capable of lifting heavy-duty setups up to 220 pounds. Give your workstation the upgrade you deserve with this complete standing desk.
Features
Boasts a lightweight construction
Heavy-duty lift capacity, up to 220 lbs
Wide height range to fit a vast range of users
Smooth electric motor height adjustments
Various pedestal base options to pick from
Houses an integrated cable tray
5 year warranty on the frame and metal parts and a 2 year warranty on the motor
Specifications
| | |
| --- | --- |
| Height range including desktop thickness | 27" - 47.5" |
| Desktop thickness | 1" thick laminate |
| Dimensions | 37.4" W x 27" - 47.5" H x 25.2" D |
| Weight capacity (including worksurface) | 220 lbs |
| Travel rate | 1.1" per second |
| Power supply | 80 W AC transformer |
| Color | Silver or black powder-coat |
| Warranty | 5 years on frame; 2 years on motor |
Desktop
This ergonomic desk is available in several sizes. All desks have a height range from 27" to 47.5".
| | | |
| --- | --- | --- |
| Model | Shape | Dimensions |
| 140H | Soft Corner | 55.1'' W x 35.4'' D |
| 117H | Heart | 46.4'' W x 35.4'' D |
Finish
The Conset 501-19 8X095 Laminate Electric Sit-Stand Desk comes with a 1'' thick laminate desktop. The worksurface may be ordered with a Maple or Walnut veneer finish.
Base Color
The base may be ordered in Silver or Black powder coat finish.
Casters
The caster set consists of 4 turnable wheels - all with wheel locks. The wheels are easily mounted using a threaded hole and come with all the necessary fittings. The size of the wheels (75mm diameter) ensures that the table is easy to move.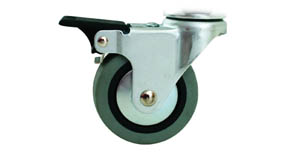 Wire Management Options
Advanced Wire Management Kit
The Advanced Wire Management Kit is a complete cable organization system for your height-adjustable desk. We developed this kit after years of desk installations. Our main goal was to help you wrangle your cords to ensure that they don't get in the way of your desk moving up and down. It's a proven way to easily manage all computer and electric desk cords, while also tidying up the space underneath your desk.
Advanced Wire Management Kit contents:
| | |
| --- | --- |
| Wire Management Tray | Attaches to the underside of your desk to discreetly house the 6-outlet surge protector power strip, wrangle your cords, or hold small accessories |
| Cable Coil Organizer | Consolidates your cords using the included wire funnel, bundling them in one neat package from desk to wall |
| Adhesive Cable Ties | Allow you to easily add and remove cords or components through re-adjustable straps that can be attached to the underside of your desk |
| 6-Outlet Surge Protector Power Strip | Provides protective features and flexibility, with 180J of surge protection, an integrated 15-amp circuit breaker switch, ABS-resistant housing, ten feet of 14AWG heavy duty power cord and a flat plug |
| Under Desk Hook | Offers a place to guide or hang cords on the underside of your desk |
Clamp-on Surge Protector
The optional UPLIFT Clamp-on Surge Protector with 2 USB ports clamps onto desktops up to 1 3/8" thick, or clamps onto desk frame ends for use with thicker tops.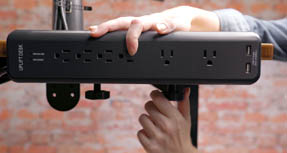 UPLIFT Desk Mat
Our 18'' x 30'' desk mat is an excellent choice for comfortable standing. It has a textured surface to prevent slipping, and the gel foam interior provides relief to legs and feet. It's light and small enough to easily move back and forth as you go from sitting to standing.
CPU Holder
When using a sit-stand desk, we recommend mounting your computer beneath your desktop to prevent cables from being stretched and pulled out of their ports when moving the desk from sitting to standing positions. An UPLIFT CPU Holder allows you to securely attach your computer tower to the bottom of your desktop to free up desk space.
Please note: mounting options are limited when pairing this with a 48" wide desktop. Please refer to our blog article, which shows the possible configurations. If you still have questions, please give us a call and we would be happy to discuss it with you!
Monitor Arms
UPLIFT Half Circle Desk Drawer
For a little bit of extra storage, add an UPLIFT Half Circle Desk Drawer at a discounted price when bundled together with your desk. This half-circle-shaped, swiveling drawer easily attaches to the underside of your desktop via a central mount and pivots in either direction, rotating out to give you quick and easy access to smaller accessories that you don't want cluttering up your desktop. Featuring pen and pencil trays, a notepad slot, and storage compartments, the 13.6" W x 7.4" D x 1.3" thick UPLIFT accessories drawer will help keep your height adjustable desk cleaner and more organized.
This product comes standard with a 5-year warranty on the frame and metal parts, and a 2-year warranty on the motor.
Return Information
Return windows close 30 days after you receive your item.
You are responsible for obtaining a Return Merchandise Authorization, the cost of shipping, and potential restocking fees, if the item has been opened.
To start a return, or to view the full returns policy, click here.