Posted by Peter Arevalo on Jan 29th 2015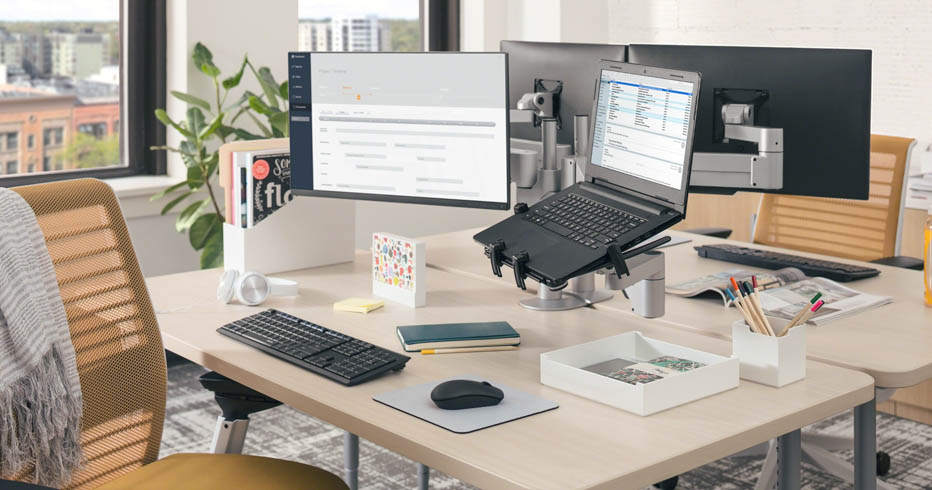 Tired of being hunched over at your desk and straining your neck to see your monitor? Fear not, it is much easier to remedy this than you would think: just add an adjustable monitor arm! There is a lot of information to sift through when it comes to finding the correct arm for you, but this guide should make the process as painless as possible. Below you will find the benefits of monitor arms, ergonomic tips, and an understanding of which arm you should choose. Enjoy!
Why Purchase a Monitor Arm?
Whats the point of getting a monitor arm? Check out this great blog that explain the benefits for adding an arm to your desk.

When viewing monitors it's all about positioning. Here's another great piece that reiterates this point.

Still not convinced? A monitor arm can help reduce the glare from your monitors, and here's why.
Okay, Okay I get it. So which arm do I get?
Now that you know why you need an arm, lets go through some configuration options. All monitors connect to the arm by a VESA plate. This is a mount that should come with your monitor when you purchase it, but can sometimes be added later, if needed. This blog should help you figure out if your monitor is compatible:
Don't have a VESA adapter? A conversion bracket can calm your woes.
If your monitor is compatible, now we can find the right arm for you.
Mac monitors are usually a little heavier than standard PC monitors, here are the best ones to use.
Have more than two monitors? We have you covered, check out the best configurations below.
Best Selling
These are the best monitor arms that money can buy. Check out individual reviews on the most popular monitor arms that we offer at the Human Solution.
Specialty Monitor Arms


You don't need to give up ergonomic comfort if you prefer to work on a laptop or tablet, here are a few specialty items that will spice up your desk.
How to Setup Your Arm
Whew! Now that you have your arm, you need to make sure it is set up correctly so you can start working healthy! Here are some great tips on viewing distance and assembly.
I hope this guide is helpful on your quest for ergonomic liberation. Of course, if you still have questions please feel free to call 1-800-531-3746 or live chat with us any time, and one of our experts will happily guide you.